During last week's epic R. Kelly/Usher gay sex romp, I couldn't help but feel excited by the glimpse Kells was giving us into his world with the close-up of his cellphone as he scrolled through his address book looking for Usher's number.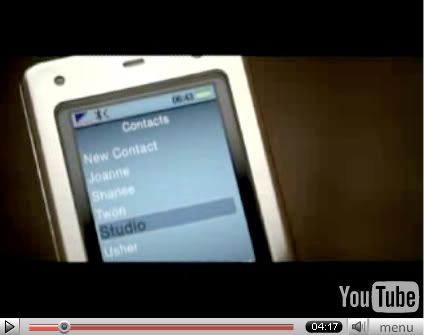 But what does this tell us?
Well, for one, the visibility of "new contact" implies that he only has five numbers on his phone, one of them being "Studio." Also, his phone is so new that it doesn't even use the alphabet to organize names. Randomization iz so dope.
But so who is he calling? Well, Twon is famous as R. Kelly's girl's recently-released-from-prison brother from the early chapters of "Trapped in the Closet." i.e. Twon does not exist. He is just there to make it look like R. Kelly has more than three people in his phone (I'm ignoring "Studio" at this point.) OK. And Usher is his gay lover. How about the two women?
A little research made it clear that Joanne is the name of R. Kelly's deceased mother, which is either very creepy that he still calls her, or is the plot of Frequency.
Leaving only Shanee, and on this I am stumped. That is why I have dedicated the rest of my life, and the extent of my vast personal fortune to discovering just who this Shanee is.