Q: Worker #3116, are you at work today?
A: No.
Q: Is it because you got kicked in the eye in karate class last night?
A: Yes.
Q: Did you go to the emergency room?
A: Yes.
Q: Do you have stitches in your face?
A: Yes.
Q: Are you acting like a little pussy about it?
A: No.
Q: Did the person kick you in the eye because that is the only way you can be defeated?
A: Yes.
Q: If the sensei hadn't called off the fight would you have used your Snake Eats Elephant combination to deliver the death blow to your opponent.
A: No.
Q: No?
A: No.
Q: No?
A: No.
Q: No?
A: I said no.
Q: What?
A: That is not the way it is done.
Q: What does your eye look like?
A: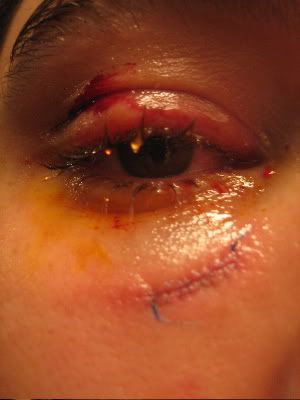 Q: Does it hurt?
A: No.
Q: Are you capable of feeling physical pain?
A: No.
Q: Who would win in a three-way fight between Bruce Lee, Chuck Norris, and Worker #3116?
A: Is Bruce Lee a ghost?
Q: Yes, Bruce Lee is a ghost.
A: Bruce Lee would be victorious. The supernatural always win. Otherwise it would be me. Especially if Bruce Lee was a corpse because then I would really only have to worry about Norris. Or as I call him, Walker, Texas Ranger Whose Ass I Could Kick.
Q: Is this the most boring post you have ever written in your diary?
A: No.
Q: Are you sure?
A: No.