So, NBC.com has finally put the full season of Heroes back on-line after many frustrating weeks of only making episode 1 and then episodes, like, 15 and 16 available? Like, oh, I really enjoyed the first episode of this involved episodic soap opera, I can probably just skip four months worth of development and stay caught up.
Anyway, now that I am in three eps deep, can I just say something right quick (so long after it's been on anyone's mind, but this is my place to DO WHAT I WANT TO DO and just really BE MYSELF) about this Claire? In episode two, she gets blindsided by a football player and breaks her neck. In episode three, the same football player tries to rape her, and she ends up impaled on a…log?
Here's my point: LUCKIEST FUCKING INVINCIBLE PERSON EVER. Jesus. The only way she could be more accident prone is if she slept with her head in a revolving door, and was Mr. Bean.
I also like this picture: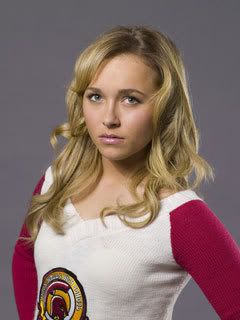 UNCHEEREST-LEADER EVER.